Why is the Planoly auto post not working? An all-important feature that takes the tedious job of manually posting to Instagram, what could cause the auto post feature to malfunction?
The truth is that you're not alone. It has happened to me, and hundreds of thousands of other people. Yes, there are times when the auto-post feature will malfunction; for some reason. If you're wondering why this is so,
here's what I found to be the issue and a quick solution:
The Planoly auto-post isn't working because the app's logic isn't syncing correctly. This might be due to a problem with your authorization token. The solution is to re-authenticate your Planoly/Instagram account. It's also possible your post doesn't meet the auto-post restrictions within Instagram.
If that's the case, then you'll see a red error message when scheduling posts, which will show under the scheduled time and date.
Visually Automating Your Instagram Posts
If you want to automate your Instagram postings, then you can't possibly do it manually — daily.
You need Planoly. Planoly allows you to visually plan, manage, and schedule Instagram posts. You have a story to share but don't want to get locked up in your own prison, why not use Planoly.
With that sorted, here's how to enable the auto-post feature on Planoly quickly (via Mobile app):
Click and open up the Planoly app in Grid View (for Instagram)
Gently tap on the OPTIONS to see your options menu (this should appear at the bottom right-hand corner, indicated by three dots)
Next, tap on 'Enable Auto-Post' to instantly load up Facebook and authorize Planoly to automatically post to Instagram for you.
Planoly: Schedule Posts in Advance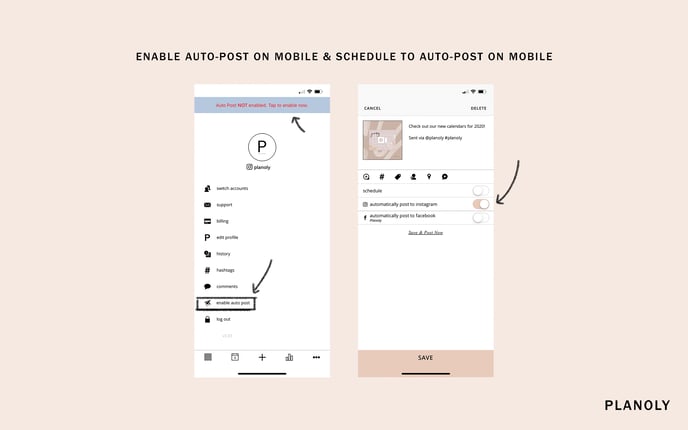 One of the most popular features of Planoly is the ability to schedule your posts in advance. If you post once a week, you can schedule up to 30 posts in advance.
However, you won't be able to track comments and view metrics. That's the main difference between Later and Planoly. The latter has a visual content calendar grid, which can be helpful if you're unsure about what type of content you want to post, or if you want to publish a large variety of posts on several accounts.
Planoly allows you to automatically post photos, videos, and other media to your Instagram account. You can use its visual planner to set up your schedule, drag-and-drop media, and see where your posts will appear best on the feed.
The platform is also easy to navigate, allowing you to add a caption and hashtags. The interface of the free edition is similar to that of Instagram, so you may want to consider upgrading your plan if you have a lot of posts to schedule.
Schedule Posts Automatically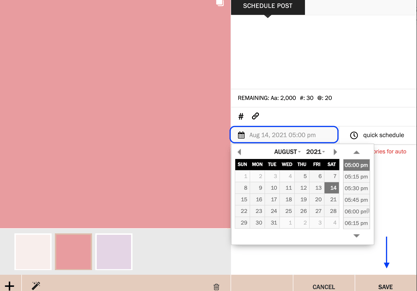 PLANOLY offers a feature that enables users to schedule posts without having to manually do it. If your post is not published on Instagram, it will be scheduled for a certain day of the week.
You can even set up an automatic posting schedule to automate your process. In case your post doesn't get published, you can also choose to edit it later, or schedule it to be published at a later time.
Authenticating your Account
If you want to use PLANOLY to post on Instagram, you need to authenticate your account with a Facebook page. Make sure that you have a Facebook Page.
Authenticating with your Facebook page will help your Instagram auto-post work properly.
This step will make your Instagram profile visible to your followers. You can then schedule and post on Instagram with PLANOLY's auto-post feature. The social media sharing tool is a useful tool that enables you to create, manage, and schedule your posts automatically.
Conclusion
If your auto-post feature isn't working, you may be using it with the wrong permissions.
To avoid being banned from Instagram, you should follow the app's rules for posting on the platform.
If your profile is banned, you need to un-unfollow it to avoid spamming. If you have more than one account, use it with the appropriate account. The Planoly app can also block your account if it detects that you're not using it the right way.